Whew! What a week! I can't believe it is over & that this is my last Heven & Hell Week post. Sad :(
Thank you so much to the author Cambria Hebert for helping me put together this whole shebang! Cambria was generous enough to supply the big giveaway prizes, the Character Spotlights, Pictures, and she created the banner and button! And most importantly, she wrote the awesome books that I had the privilege to read and review. If you haven't read all of her books, I suggest you rectify that immediately!
Also a huge thanks to my readers and followers. I am so thankful to have all of you to share my love of books and reading with.
~Krista @ Breathe In BooKs
Recap of Heven & Hell Week
With the Author:
Interview with Cambria Hebert
Guest Post by Cambria Hebert with Exclusive Tirade Sneak Peek!!
Extras:
Waiting On Wednesday: Tirade
Reviews:
Before
Masquerade
Between
Charade
Bewitched
Character Spotlights:
Heven
Sam
Kimber
Cole
Riley
The Heven & Hell Week Giveaway:
This even has its own page! Look up and to your right. Yup,
right there
.
Prizes: Book Charm Necklace, Signed copy of Charade, Signed Swag
This giveaway will end on October 18.
I will contact winners by email if you have won.
Please respond within 48 hours. If you do not, I will have to pick another winner.
Whose Team are you on?
I think we need some girl buttons here! I am totally for some girl power and we gotta show them our love too!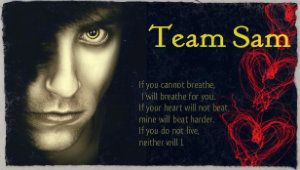 A Shout Out to all my fellow Heven & Hell Street Team members! You are all awesomesauce!!
!!!!!~~~~~And now for the 24 Hour Blitz Giveaway!!!~~~~~!!!!!


To enter all you have to do is answer a question and leave the answer here in the comment section. I will pick the winner using Random.Org. This is open to International and US entrants over the age of 13.
Must be able to receive a Gift from Amazon or Barnes & Noble.
The giveaway will only last 24 hours so you better hurry!
Breathe In BooKs will be giving away the entire set of the Heven & Hell Series in eBook format to one lucky winner!
Second and Third place will be receiving one or two eBooks from the series depending on what book you need/want.
The question:
"What was your favorite thing about Heven & Hell Week? And what books in the H&H series do you own and which ones do you want? If you already own them, who would you give them to?"
**Also include an email or facebook link or something so I can reach you if you win!